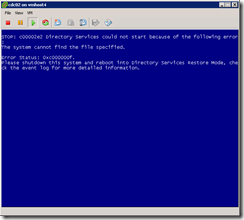 During an upgrade of our VMware ESX infrastructure, I ran into an issue with our domain controllers. As part of the process we needed to upgrade the virtual hardware that is part of the guest vm. After updating the domain controller guest's VMware Tools software, I shut down the guest and select Upgrade virtual hardware. Things looked good, so then I powered on the guest and it started to boot. After a moment, it threw a quick bluescreen and auto-rebooted.
My first order of business was to change the auto-reboot option so I could actually see the error message. I know now that I could just hit F8 during the boot process. However, I did it the hard way.
I booted to the Windows 2008 install media, and ran regedit from the recovery environment. I loaded the HKLM hive, and set the HKLM\SYSTEM\CurrentControlSet\Control\CrashControl\AutoReboot DWORD value to 0 (zero). I see in the KB 307973 article that there's also a wmic command that will set the option. I don't know if wmic is available in the WinPE recovery mode.
Once I got that setting fixed, I was able to see the error message and the stop code:
STOP: c00002e2 Directory Services could not start because of the following error: The system cannot find the file specified.

Error Status: 0xc000000f. Please shutdown this system and reboot into Directory Services Restore Mode, check the event log for more detailed information.
I consulted Google, and saw several posts mentioning problems with VMs when a virtual disk was unavailable. That reminded me that, in keeping with best practices, we had created separate volumes for some of our Directory Services files.
I booted the machine into Directory Services Restore Mode. Looking at Disk Management, I saw that only the boot volume was online. I brought the other volume online and rebooted. No Windows stop messages, and then the system asked to reboot again to finish installing new hardware.
Lather, rinse repeat.