Yesterday, I attended the NERCOMP WordPress University SIG, a showcase of what some folks are doing with WordPress.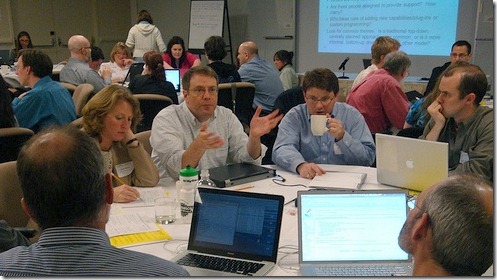 First session: Jay Colier, Web Communications Manager, Bates College
Described reworking Bates College's web presence to identify and streamline paths that guide people through different stages of connection to the institution. Traditionally, each stage (e.g., applicant, student, alumnus, etc.) was a separate silo. Lots of good, high-level analysis. WordPress allowed Jay to implement a redesigned site with minimal resources, but a robust result. Easy content development for contributing departments.
Take-aways:
Interesting tidbit. Navigation menus according to affiliation lifecycle (my term), and Commencement was put at the beginning of the Alumni menu rather than the end of the student menu.
He really worked the (I assume) Mac presentation tool's transitions; water ripples, split screen async slide to left/right. Very slick and pretty, slightly distracting.
He had great analysis and direction. Used Google Analytics not to see page count but to study paths through the site(s). Would our communications/web team be open to reviewing this work?
Second Session: Ioannis Yessios, Manager of Web Technologies, Instructional Technology Group, Yale University
Develops custom plugins to do cool stuff. Uses WPMU at Yale. Showed a long list of the useful plugins that he's used, then a shorter list of the must-haves. (Waiting for his slide deck!) Showed some of the ways he's used plugins to do all kinds of things; currently he's working on a super gallery mechanism (GalleryPress).
Take-aways:
Showed how his tools work as an example of the kinds of facilities that can be built. Didn't really address how plugins work (From his session description, I thought he would).
He's working on some MU plugins to hide themes and plugins from site admins, i.e., you can have themes and plugings installed that aren't visible to some sites. With stock install, you can enable/disable for different sites, but they are still visible.
Authored a bunch of other plugins
Anonymizer – to conceal the author of posts/comments, originally for a course on sexuality in literature. Aliases are consistent within a single site/blog.
[edit: PDF presentation (lists of plug-ins)]
Third Session, part A: Randall Rode, IT Director, School of Drama, Yale University
Used WordPress to solve a problem. Was asked to make an authenticated but anonymous online survey, by the end of the week. Used WordPress and a couple plugins, and used MS Access to report from the database. only took a few hours.
Take-away: it's easier to ask for forgiveness than permission
Third Session, part B: Casey Bisson, Information Architect, Plymouth State University
Developer of Scriblio. Using information that already existing and connecting it new and interesting/useful ways. WP-powered website. Custom plugins make re-arranging all the content on sites easy, with no coding. Casey changed the production website from the conference. He was smug; I was horrified.
Take-aways:
PSU is pulling course info from Banner to build online, browsable catalog
Fourth Session: Jane Wells, User Experience Lead, WordPress | Automattic
Overview of direction of WordPress. WordPress Foundation now owns all IP, so no one can "turn evil" and claim they have rights to some or all of WP.
WP 3 merges MU functionality into core
Custom post types, custom menus
New default theme (and a new default theme each year)
WordPress 3: 426 bugs resolved, 268 to go.
Fifth Session: WordPress as Social Platform: BuddyPress and the CUNY Academic Commons
Boone Gorges, Instructional Designer, CUNY Queens College
Matthew Gold, Project Director of the CUNY Academic Commons
Quote: "We built the plane as we were flying it."
Plain-vanilla WPMU+BuddyPress contrasted with theming work and additional plugins. Interesting discussion of the "middle space" between purely academic and purely social experiences and interactions. Leveraging the groups and forums. Discussed the possibilities of the activity streams associated with each user/group/etc. Integrated some wordpress wiki-like functionality, also mediaWiki. Place for collaboration.
Take-aways:
Links:
The organizer's page/post where he'll be linking materials from the event:
http://rodeworks.com/learn/thanks-to-all-who-played-at-wordpress-u-today/
WordPressMU Development for Education:
WordPress in Higher Education:
List of WordPress plugins for Higher Education:
Posts by an instructor at CUNY, using WordPress as the center of the online learning experience.
Alternate Worlds: Teaching with an "Open LMS" and
Alternate Worlds Part 2: The Class Begins
Other noted plugins:
I'm also waiting to get Ioannis' (Yanni's) deck with the list of most useful plugins.