In order to connect to the Remote Desktop service on centrally managed servers from on or off campus, you need to use the Remote Desktop (RD) Gateway feature of your RD client application.
For the traditional Remote Desktop Client on Windows, you can configure this option by going to the Advanced Options tab, and then click the Settings button.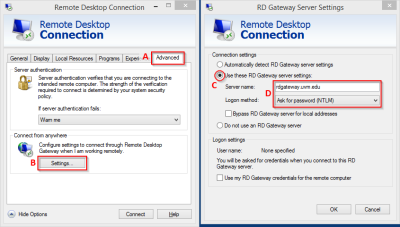 On the RD Gateway Server Settings window that open, select the second option, Use these RD Gateway server settings. The server name is rdgateway.uvm.edu, and chose the Ask for password option.
Click OK, and you should be able to connect using the RD Gateway service. For more information about RD Gateway, see What is a Remote Desktop Gateway server?