Recently, I was asked to talk with our Help Line staff about strategies for troubleshooting problems with Microsoft Office. I spent some time addressing the activation issues relating specifically Office 2010, which I wrote up in a separate post.
The most important point I want to make about general Office troubleshooting is that reinstalling office will rarely fix a problem. Office will kick-off a repair operation automatically if it detects problems with core Office files. Application, heal thyself.
More importantly, a repair operation or uninstall/reinstall process will refresh Office program components, but it won't touch templates, user and system specific registry information, and add-ins that are the most frequent cause of problems.
Safe mode
The first step in troubleshooting should be to start the application in safe mode. Most versions of Office applications support a safe mode, which doesn't load templates, registry info, and add-ins. This step quickly determines whether the problem lies with Office itself or elsewhere.
Invoking Office safe mode is as easy as adding the command-line parameter /safe. Usually, I open the Run window (WindowsKey+R), and type the name of the office executable and add the /safe parameter. If you don't know the executable name, you can find it with the browse button, and then add the parameter at the end: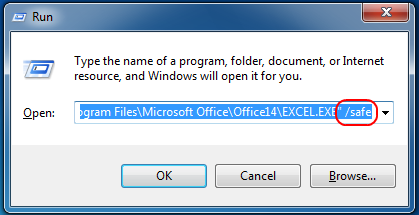 If the app doesn't start, then you probably do need to perform a Repair installation. If the application starts successfully (sometimes without opening a document in safe mode), then you know that the core office files are fine, and a reinstall isn't likely to help.
Figuring out what's wrong
While is safe mode, you can look at the application options to see what templates and add-ins are installed, and currently disables. In Office 2007, there's the Office button, and in 2010, the File menu. From this menu, select Options.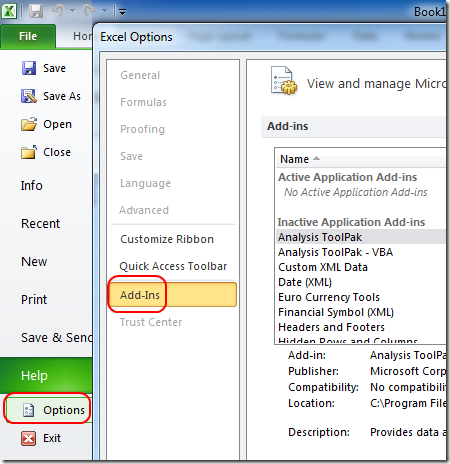 Look at the list of add-ins and templates to see if there's anything that isn't part of Office. I would attempt to disable them and then see if the application starts without safe mode.
If you aren't able to determine the culprit, Microsoft provides step-by-step troubleshooting guides to Office startup problems. They are thorough, but should identify and resolve the problem.
I hope that you find these tips helpful. Good hunting!